Home

Products

Instructions/tech info

Trail Camera Pictures

Contact

Links
Welcome to Snapshot Sniper.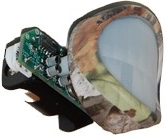 NEW! IT's HERE! The new SSII (pictured above). You want easy do it yourself trail camera building? We got easy! Has great features, but is still a Very simple trail camera board. The SSII mounting system is as easy as it gets. All you need is a 1" hole in the case, that's it! The slide switch has 3 positions: TRAIL - OFF - FEEDER These new trail camera controllers are available here.

---

Of course we still offer or simple to use LCD Trail Camera Board that is packed full of features.



NEW " Field Marshal" feature. Combines time lapse and motion sensing!

---
Save yourself hours of scouting in the field this hunting season with your very own home made game cameras. With our motion sensor boards, you will have the advantage when scouting your deer hunting area. With the use of a technologically advanced motion detection system to trigger the game cam, you can monitor trail activity night and day. By positioning the deer camera near a trail, feeder, stand, or water, you will know what different types of animals are visiting these hunting areas. The game cameras also will capture the date and time of the event so you will know exactly when the activity is taking place on the trail in your area to improve your hunting.

When using the game cameras near a feeding area, you will not only determine when animals feed. When monitoring a trail, feeding area, or watering area with this game camera system, you can help plot the daily movements of the deer and other animals as well as selecting possible hunting sites near a trail, food or water. Some have used trail cameras to find the bedding areas that deer use to help determine where to place their stand. For us, the main benifit has been finding nice bucks in an area where we previously thought there were only small deer. The areas wouldn't have been hunted if we hadn't captured pictures of the nice deer that we didn't know were there. Whether you are new to deer hunting, or have been deer hunting for years, you will have the confidence that you aren't wasting your time, by knowing what deer are in your hunting area using our game camera system.
---
Gonna build your own Game Camera? Check out our homebrew products and the great sites listed below for building your own homemade trail cameras!
We would like to thank the guys at RDHC and Hag's House .
---
Most of all we want to thank God. Without him, this as well as anything else would not be possible.
---
Amazing "Unicorn" Buck!
Captured by a Snapshot Sniper Trail Camera.
Click HERE for game camera pictures and story.
Before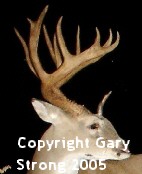 AND after!

---
New!
Game camera pictures from the Amazon!
Click HERE for game camera pictures.

---